Gas Tank Photos




If there's one accessory that most BMW owners like, it's a custom tank. Nothing makes a bike stand out in a lineup of "me-too" black BMWs like a big tank.
I thought you'd enjoy seeing a page devoted to photos of these custom & aftermarket tanks, so you can see what's available out there. jl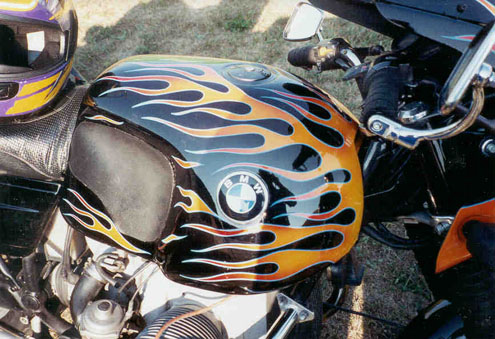 I thought I'd start out this new web page with this wild Heinrich. Beautifully done - if not to everyone's taste - the flame paint job on this tank extends to the rest of the bike. This is a real late Heinrich, and one of the few I've seen with the /7 style flush filler cap.
Another nice looking Heinrich 10 gallon tank, this time in red. I've yet to find a good replacement source for Heinrich kneepad rubbers, so if you're repainting your Heinrich, don't be too quick to rip them off - paint around them!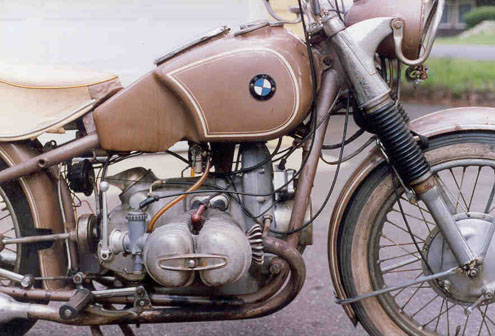 Ok, does this tank have you scratching your head? The engine swap should give you a hint. See the next photo for the answer.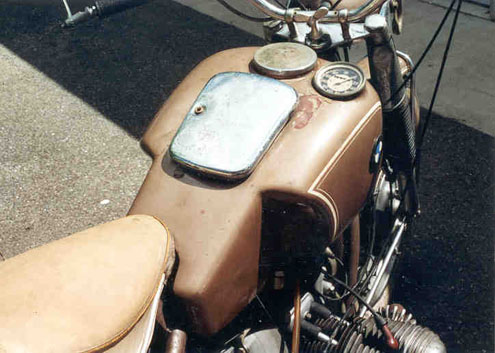 What you see on this bike is a WWII BMW R75 (military sidecar bike) toolbox tank, which has been heavily modified. Note the extreme knee area indents! A speedometer has also been recessed into the tank, next to the filler cap. The old hand shifter flat spot on the tank has been removed, providing room for a BMW emblem on the right side of the tank.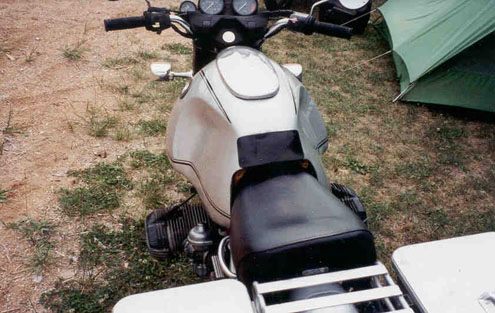 This has to be the LARGEST Heinrich I've ever seen on a post 1969 bike! Having lived with a 10 gallon Heinrich for 15 years, I'd guess that this is about a 12 gallon unit. The tool box on top is absolutely required, because there's no way you'll get to anything under the seat!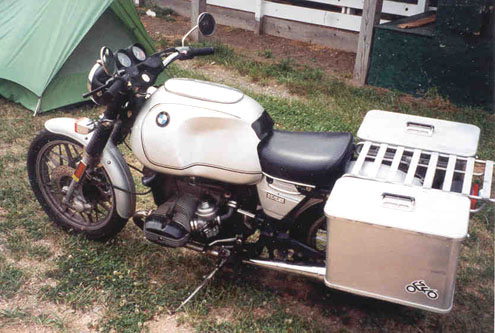 Another view of the large Heinrich.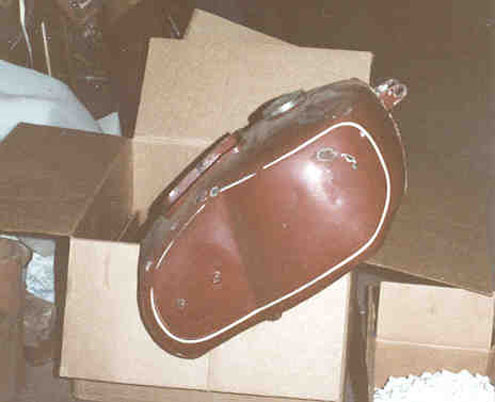 This red Hoske is off a 1952 R67/2 that I found about 20 years ago. The whole bike was painted red from the factory.
Another /7 style Heinrich, this time a more modern 11 gallon unit.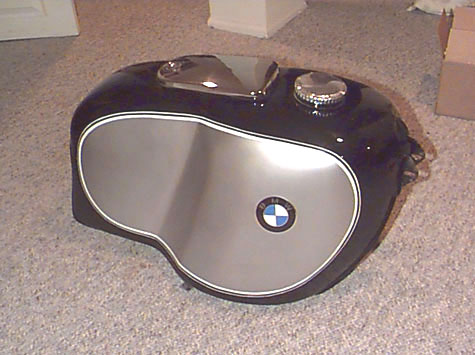 A 10 gallon Hoske made for a /2 twin. Two-tone paint really helps disguise the immense size of some of these tanks!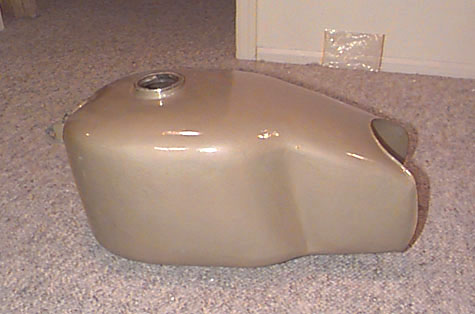 This Hoske is a little over 6 gallons, and (once painted black again) really makes a plunger twin look good!