Welcome to Beemer Garage!
The Largest Collection of BMW Documentation & Photos on the Internet *
On these pages you'll find BMW historical documentation that you may not find anywhere else in the world. You'll also see an assortment of images of BMW motorcycles I own or have owned, along with hundreds of other interesting machines that I've run across over the years. So stop by often, as new things are always showing up.
* Outside the Factory Archives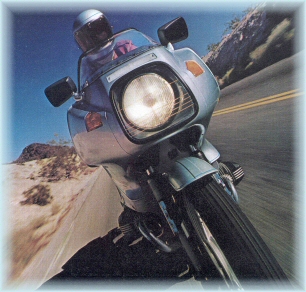 For Immediate Release
BMW VMCA & Beemergarage.com join forces
In recently concluded discussions with the BMW Veteran Motorcycle Club of America (BMW VMCA), it has been decided that the ownership & management of the Beemergarage.com website will be transferred to the BMW VMCA organization.
John Lacko, founder and manager of Beemergarage.com, had this to say about the news: "I'm very excited about this merging of efforts. The BMW VMCA is a young organization, made up of passionate BMW motorcycle enthusiasts. They have demonstrated a strong commitment towards sharing information about vintage BMW motorcycles. This is an exact fit with what I've been
trying to accomplish since my own humble beginnings for Beemergarage.com. In the eight years since I founded this service, the Beemergarage.com website has grown to become the largest private repository of BMW motorcycle information in the world. And this was done solely in the spirit of sharing information with fellow enthusiasts, and not for profit.
"Today the Beemergarage.com site services the needs of about 30,000 visitors a month. It's only logical that the website take the next evolutionary step and become a part of a larger, world-wide service organization."
Under the terms of the transfer, the Beemergarage.com website will be donated to the BMW VMCA, which is in the final stages of incorporation as a non-profit educational organization. John Lacko's involvement with the Beemergarage.com website will continue for some period of time in an advisory capacity, while day-to-day activities are transferred to members of the BMW
VMCA web support team.
Richard Sheckler, President of the VMCA, had this to say: "We in the vintage BMW community are grateful for all that John Lacko has done for us through his personal website. We at the BMW VMCA are indebted to John for entrusting us with the care and further development of a monumental work dedicated to our hobby: owning, operating, repairing, restoring, and studying the history of old BMW motorcycles, the people who built them, raced them and about the machines themselves.
"In this age of electronics and computers, websites like 'John's Beemer Garage' are available to more and more people around the world. For those of us who do not own a computer, the internet is still available to many of us with a visit to our local library. Our librarians will even help us find the sites we are looking for. From my deepest recesses John, Thank You!"
John Lacko added: "I'm proud to be a member of the VMCA, and I urge all of my website readers to consider joining this worthwhile organization. As for me, those of you who know me well will understand that I will never be far from the hobby that I love. As I transition into a new phase of my own life, and the opportunities that an early retirement present, I will have a lot more time to enjoy the vintage motorcycle hobby."
Going forward, look to see a lot of additional material and new services on the old Beemergarage.com website, as it evolves into the backbone of the VMCA.
For additional information about the BMW VMCA, please see their current temporary web site.