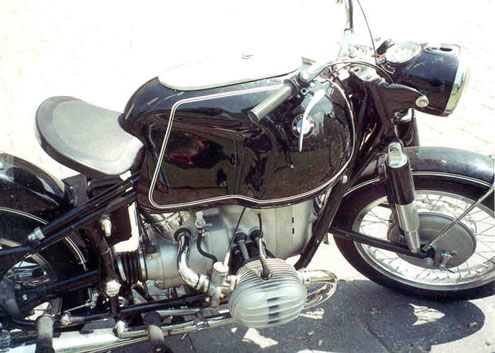 This approx. 10 gallon Heinrich is mounted on a 1955 R50. This view is interesting because this tank doesn't have the rubber kneepads or belt buckle guard, so there's a lot more paint showing. Also note the plunger style petcock. This bike also features the later replacement front fender, which looks good here. You definitely risk the family jewels running a solo seat with a tank this big!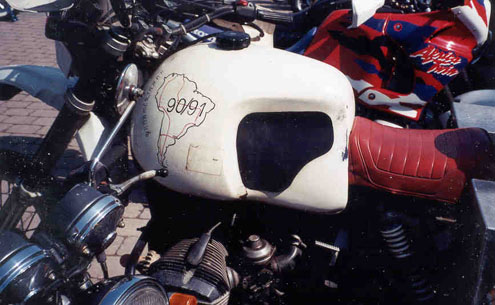 A newer Heinrich, but with an offroad style gas cap rather than the more traditional /7 flush style cap usually fitted. The first of this type I've run across, so it required documentation! Judging by the crisscrossed red lines on the map of South America, this Heinrich has been put to good use!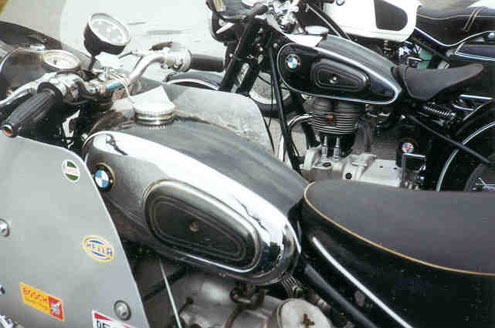 On the previous page you saw a factory chrome Sport (6.5 gallon) tank, and now here's a chromed 4.5 gallon one to look over. This tank is original and unrestored, and was found at a swap meet just last year. The interesting thing about this tank (other than the chrome sides) is the single white pin stripe that separates the chrome & black. The stripe (in thickness) is between the normal thin and wide stripe that are usually on a stock BMW. By that I mean it's wider than the small stripe, but thinner than the wide stripe. Also note that the black paint ends just around the area where the frame comes out from under the tank.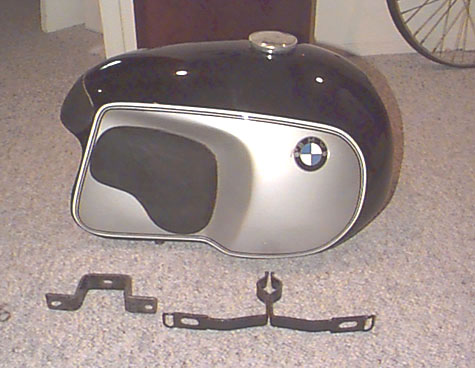 While the /5 and newer Heinrichs used the stock BMW mounts, the /2 Heinrich had its own set of special brackets - which are usually missing. Here's an 8 gallon /2 Heinrich with proper front and rear mounting brackets. The rear ("U" shaped) bracket replaces the stock rear tank mount, while the front bracket clamps around the small tube on the frame backbone. The narrow rings on the very end of the front bracket can be used to tie down a tank bag. Bringing this one home in my luggage almost got me thrown off the plane!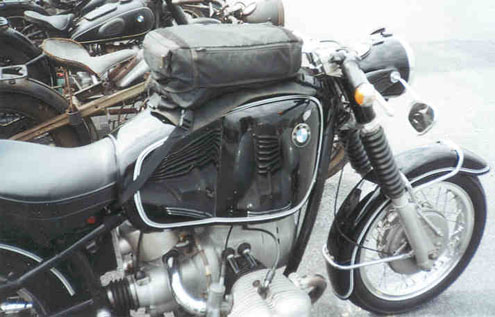 This R69US looks real good with this approx. 8 gallon Hoske mounted on it.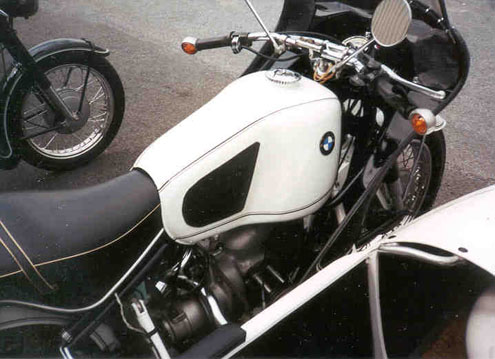 Yet another Hoske - this time a long and low one - seen here mounted on a later twin, which sports a Steib sidecar. It's amazing how many different styles Hoske produced. I wish I could find some literature to find out what they were all named/called! No solo seat option for this tank...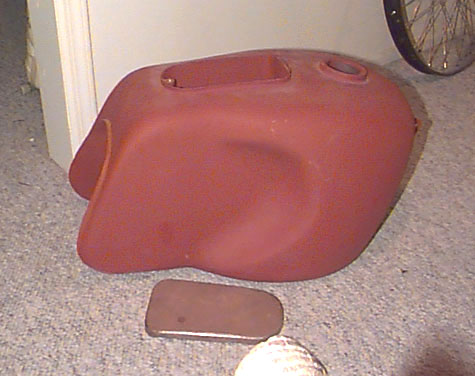 It was bound to happen - yes, now you can get a brand new Hoske tank for your 1955-69 twin! Being copied and sold in Germany is this popular style of Hoske 6-7 gallon tank. It's made of nice heavy gauge metal just like the originals. It includes the tool box lid, which must still be fitted to the top. It uses standard BMW petcocks and tank emblems. Ready to paint and ride. Sorry but I can't tell you who makes these - I got mine at a swap meet.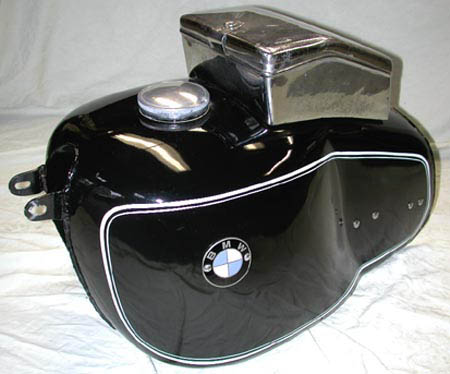 A nice looking Hoske plunger twin tank with tool box bolted on top. I wonder if this is the same basic design used to attach the pad seen on the previous page?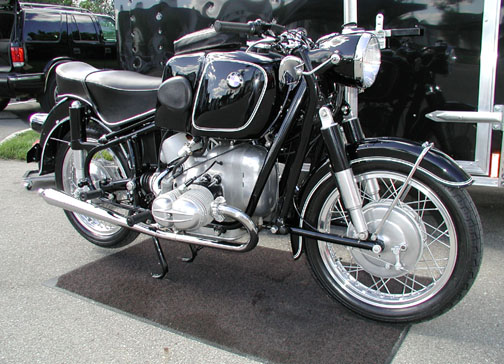 A beautiful looking 1962 R69S with Hoske 7.6 gallon tank. Many people seem to be looking for the smaller Hoskes, but this photo should convince them that the larger tanks are gorgeous too!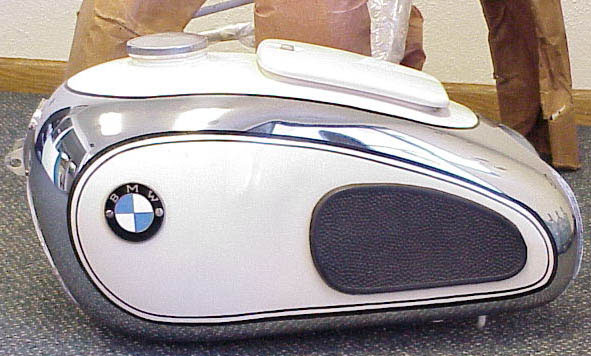 Someone lucked out in a big way when they recently purchased this NOS parade tank for a 55-69 twin. This great photo really shows off the details of this rarely seen tank. Barely visible behind the tank are the matching set of NOS front & rear fenders (still wrapped in paper).